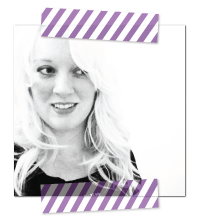 Hi all! My name is Dani Ploscik. Hard Corps Love is my personal blog about life, love, and goals. I'm married to my hero and best friend, Joshua, who currently serves in the United States Marine Corps. We have a West Highland White Terrier (Westie) named Lady, affectionately known in the Ploscik house as "Ladybug" ... or just "Bug."
Professionally, I'm a graphic designer & social media strategist for a contractor of the Department of Defense by day; owner of a little studio called
Graphic Grace Design
by night & weekend. I also write for the Blog Brigade at Military OneSource and play around with photography a bit.
I have my BFA in Graphic Design with a minor in Art History. I'm a designer by trade, but I enjoy all sorts of creative outlets: photography, sewing, scrapbooking, painting, bookmaking, cooking, baking, home decor, makeup, beauty, fashion, organization, and web design.
I love recording life. I have been blogging on & off for over 10 years and writing in paper journals since I was 7 years old. I started Hard Corps Love to help me through my husband's second deployment to Afghanistan. I began writing about
the separation
, the creative
care packages
I made while he was away, and the difficult decision to
leave my full-time, corporate design job
to be with Joshua and
launch my freelance career
. Now, it's become a creative outlet and an integral part of my life.
Welcome to the ride as Joshua & I share the unfolding chapters of our love story, navigate through military life, and strive to achieve a happy work—life balance.
Want to know more?
Check out the story of
how we met
.
Our
wedding planning
in intimate detail.
Getting personal:
our humble beginnings
.
Introducing Ladybug
, our little furbaby.